Course in Philosophy for Living
Inspired by Philosophies of East and West
Starting in 4th October 2023 - Wednesday
Philosophy means love of wisdom (philo-sophia) and is an active attitude of awareness towards life. In this sense, we are all born philosophers, with an innate need to ask questions and with the intuition that there are answers to be found. Every civilisation has passed on to us its experience and understanding of life. However, most of us have had little opportunity to learn about the vast heritage of ideas that have inspired and guided humanity throughout history. 
The practice of philosophy develops self-confidence, moral strength and resilience to face the difficulties and crises of life. It allows us to become an actor of change in our lives and around us.
Course in Philosophy for Living
The Philosophy for Living course offers a series of theoretical and practical classes to progress in self-knowledge.
This allows us to bring the timeless values of philosophy to bear in the face of our daily circumstances as a means of awakening individual authenticity and developing a better way of living together.
The 16-week course will introduce you to the major concepts of Eastern and Western Philosophy and explore their relevance and practical application for our lives.
The topics are arranged under three headings: Ethics, Sociopolitics and Philosophy of History.
Philosophy for Living: Practical Application
What is the value of thinking without action? Action is the real measurement of what we are, theory and practice inform each other. Each course evening will explore the practical relevance of philosophy and its potential to transform ourselves and society.
Ethics - Understanding Yourself
Enquires about moral principles and the impact of individuals on their environment. But also related to happiness, as it helps us to find the right "inner attitude" to deal with different life situations in ways that are beneficial to ourselves and others.
Sociopolitics - Living with Others in Solidarity
Looks at the relationships in society, both between the individuals and between the individual and the group. It is concerned with finding principles by which we can create harmonious communities where everyone can flourish.
Philosophy of History - Building the future
We are all products of history and at the same time we all contribute to making history. Philosophy of History seeks wisdom in the study of the past and how to apply the lessons of history to the present.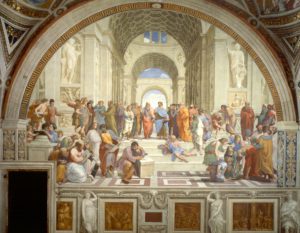 Every civilisation has passed on to us its knowledge and experience of the essential laws of life. A systematic and comparative study of this vast
Read More »
Throughout the course I was able to better understand my emotions and realise how they neither control me nor define me.
It gave me the opportunity to broaden my understanding of the individual, society and Nature. It highlighted the importance of Volunteering as a great way to practice real and direct citizenship.
The course helped me changed my perspective. I'm learning to look at the challenges of life not as nuisances but as opportunities to grow as individuals.
Members of the New Acropolis Ireland team with over 30 years of experience teaching philosophy in a friendly and participative environment.
Passionate and experienced philosophers who, as volunteers, share their experience of living philosophy.
16 classes
Classes take place once a week, from 7.30 to 9.30 pm 
First 2 classes FREE, then € 160 (€ 100 concession) to enrol
Open to all, no prior knowledge of philosophy necessary
This course is followed by further levels for those who wish to progress
Arts and Business Campus Drumcondra
40 Drumcondra Rd Lower
Botanic
Dublin 9
D09 V5R9